I've just played one of those silly Facebook quizzes we are all so addicted to and it told me I have a lot of anger.  I cracked up – I thought it hilarious.  Anger is probably the emotion I least relate to.  Of the lower-frequency energies, I understand Fear the most and Anger (like most low-frequency energies) has a foundation in Fear.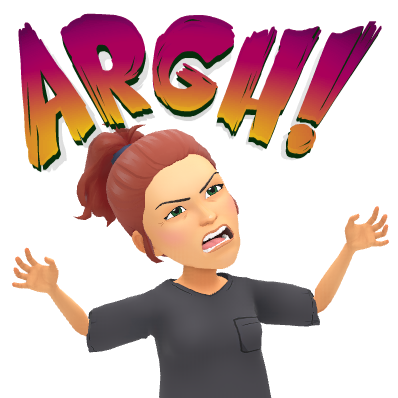 Yep I get miffed at times but ANGRY?  That is a very rare thing.  But the quiz did get me to thinking.  Having lived in fear for most of my life, could I possibly have hidden angers buried so deep I can't find them.  Is Anger just waiting for the right set of circumstances to crop up so I can erupt like Vesuvius and wipe out half the planet?  It certainly is feasible.  The two emotions are very closely linked.  This is something worth exploring.
So I delved deep to see if I can find Anger.  Well, first I am human and Anger is a part of the human lexicon of emotions, so, yes I am very capable of Anger.  Am I angry now, or likely to explode in the near future. I very much doubt it.  And the reason why is because I really don't want to waste my energy on old low-frequency emotions.  I have worked incredibly hard to rise out of those low frequency energies to achieve – and maintain – a high frequency energetic vibration.  I have absolutely no intention of dropping back into that old fear-filled murk because I blew my top over some post on Facebook or my dog trashed the sofa or even at my husband when he asks my advice but wont listen to what I say.  And getting angry at the world's political situation simply doesn't make sense!  It achieves nothing but feeding the low energy flames.
In every case, you can do so much more if you maintain a higher frequency.  For past events……the very ones that have bubbled and festered deep inside you for absolutely years and are most likely to cause that major eruption…. Well, it is possible to move past them by learning to see them as your hardest yet most worthwhile lessons.  The people or situations that caused the most damage are actually your very best teachers.  You can choose to wallow in rememberance of these past hurts or you can choose to let these events be your agents for growth.  And in 99.9% of cases I will choose growth.
For current events (and this is just my take) If you are getting worked up and angry about something you either cannot physically do anything about or are not willing to get up out of your armchair and do something practically about, then ask yourself a couple of questions – Why am I angry?  What is stirring me up so much yet not enough to make me act?  (Here I am specifically thinking of the people who spout anger and hatred and foul language on Facebook posts).  Am I angry because it seems like it's something I ought to be?  Could it be that if I am not angry I may be judged as being uncaring? Or, more likely,  are you scared of what the outcome might be.  Do I need to be angry to show I care?  Or maybe you are so furiously angry about something that you have no other choice but to go do something to help sort out whatever the issue is.  Then it may be a good idea to recall that Anger is simply energy.  And that Anger energy can be utilised into a more constructive, higher-frequency energy and put to great use in fixing the problem.
Of course, this is just my thoughts at this time in my life.  My thoughts change as I do.  Your thoughts may be totally different, but next time you feel Anger bubbling away or even if you are angry at what I've just said – think about the reason behind the anger.  Could it possibly be defensive?  Or are you fearful of the outcome?  Hmmm….  It's so interesting to delve into all the fears and emotions that collectively  are described as Anger.
Next time you are blowing your top, stop and take a breath – and then start to think about all the emotions that are running through your body as a part of that Anger.  I bet Fear is there!   I
can pretty much guarantee that if you do that exploration of Self, you will very soon find you are no longer angry – and that you have a much deeper understanding of what triggers you and why.
I did respond to the person who posted the quiz game with a laugh and a giggle and that person replied that Anger is good – fuel for Love.  First off I discounted what he said – Anger and Love are on opposite sides of the coin, but in a way he is right.  All human emotions are connected.  They are just at opposite ends of the Energy Ladder.  When you get past your anger you are heading towards Love.  They are both simply energy but one is low frequency and the other is high.
Can you be Angry and Love at the same time though?????  More thought needed on that one methinks.